Calculating The Cost Of A Kitchen Renovation

The kitchen has long held the top ranking as both the most used room in the home and the most likely to be renovated. If you are ready to renovate your kitchen, Oasis Kitchens is ready to help.

Keep reading to see which options are most popular with other homeowners and how much you can expect to pay at each stage.
Average Kitchen Renovation Cost In 2020
According to home maintenance and renovation site, Home Advisor, the average cost of a kitchen renovation was $25,100 in 2020. Of course, the actual cost of individual renovations varied widely based on a number of factors like overall kitchen size, and the level of construction and utility installation or repair needed. Final totals ranged from $4,000 for a DIY redecorating of the kitchen surfaces to upwards of $60,000 for a large kitchen with brand new custom cabinetry and appliances. The vast majority of homeowners reported a final cost between $10,000 and $30,000 for their kitchen renovation project.
If you are planning a kitchen renovation and would like a more accurate estimate of cost, check out our online kitchen planner. Just click on the orange "Design Your Kitchen" button at the top of the page, provide a few details to help us understand your vision, and then select your layout, design style, and finishes. Save your design and meet one of our design curators to turn your design into reality at a total cost that doesn't break your budget. Our expert design team will review your submission and work with you to turn your design into reality at a total cost that doesn't break your budget.
Kitchen Renovation Planning
Not sure you are ready to commit to a design reality just yet? Take all the time you need. The more detailed you are able to be in the planning stages the more money you can save in the final construction. When the process is rushed, homeowners tend to skip the pre-planning stage and jump right into the shopping phase. Those early steps can save you a considerable amount of money.
Without question, the most important cost-cutting tool you have is a well-researched plan that leaves nothing to chance. At a bare minimum, your plan should provide solid answers to the following fundamental questions.
1. Why Do You Want/Need A Kitchen Renovation Now?
Look over the following list of common reasons that people decide to take on a renovation project and determine what your motivation is for your project. Answering this question will help you keep your momentum and your budget on track and keep you from blowing the bank account on an impulsive design choice that doesn't satisfy your project goals.
Popular home design inspiration site, Houzz, identified the following selections as the most common reasons owners cite for wanting to renovate their kitchens.
Have been planning to renovate for some time, and finally have the means to move forward

Can no longer tolerate the existing kitchen's inadequacy

Recently purchased a new home and want to customize

The original kitchen is no longer functional due to age, fire, flood, or other damage to the home
2. How Will You Use Your Renovated Kitchen?
Once you have identified the main motivation for your renovation, it is time to get down to the nitty-gritty details of functionality. In this step, you should list how you anticipate using your kitchen. Consider your day-to-day lifestyle and identify the role that the kitchen plays in your life.
Here are several examples you can use to think about your own kitchen pain points.

Do you have a large family or friend group that you entertain in your home regularly?

Do you prepare meals or treats for school functions, a favorite charity, a hobby, or a side hustle?

Do you have a multi-tasking family where the kitchen acts as a central hub for family activities?

Do you cook elaborate family meals or prefer takeout or delivery options instead?
Nearly every kitchen renovation project that has ever existed has had a budget cap that required difficult trade-off selections from the homeowners. The more detailed you can be with your analysis of how your family will use your kitchen, the more you, or your designer, will be able to focus your spending on the features that will generate the most satisfaction with the final renovation results.


Kitchen Renovation Ideas
Finally, take your time and explore all of the different options available in terms of the quality, size, and features of appliances and fixtures. You should also give careful consideration to the many types of surface treatments and materials that can be used on counters, cabinets, and floors.
We will explore the various surface treatments and construction material options in our next post. In the meantime, take a look at the kitchen designs below for outside-the-box solutions that designers used to solve the most common kitchen challenges.

Kitchen Renovation Solutions To Maximize Storage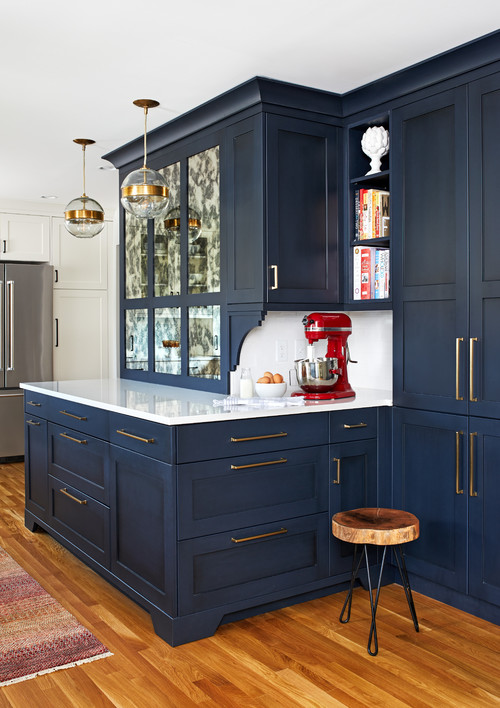 Inadequate storage is the number one kitchen pain point for homeowners. There are solutions that can provide the storage that you need no matter how tiny the kitchen footprint.
Cabinets that reach all the way from floor to ceiling reclaim valuable storage space that would have been wasted space otherwise. Adding cabinet details like narrow, pull-out spice shelves, corner cabinets with lazy-susan style shelves, and appliance storage garages to free up counter space.


Kitchen Renovation Ideas That Light Up The Darkness
Inadequate lighting is another top source of frustration for homeowners and also poses a significant safety risk. Fortunately, this is a problem that can be easily remedied without incurring a big expense. Careful planning and multiple light sources can brighten up all of your work surfaces. Use large pendants or ceiling-mounted fixtures to wash the room in light and install inexpensive under-cabinet task lighting to illuminate specific work areas.


Kitchen Renovation Solutions For Multiple Cooks In The Kitchen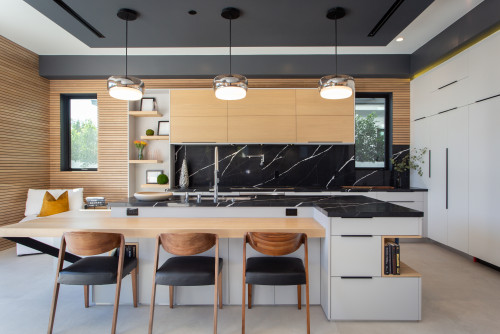 Correcting awkward kitchen layouts that make it difficult for more than one person to work in the space is a top priority for homeowners. In full renovations that replace the original cabinetry and appliances, this problem would be corrected by simply choosing a more efficient layout for the new installation. However, in the partial renovations that refinish rather than replace the original cabinetry, the possible solutions are much more limited.
A kitchen island can be added if the square footage and the budget will allow it. Look at any adjacent areas like an attached dining area or breakfast nook to assess the possibility of placing a china hutch, or credenza in one of these spaces to provide an extra work area.
Did you know that when you use our kitchen planner, you get an instant kitchen renovation estimate? You can also chat to one of our design curators at any point during your renovation journey.