Kitchen Renovation Inspiration: Before & After
The kitchen is often the central hub of the home where everyone congregates to prepare meals and discuss the day. It makes perfect sense that the kitchen is the room that homeowners choose to renovate most frequently.

Kitchen Renovation Ideas
Ready to renovate your kitchen but not quite certain where to start? You can find an endless supply of inspiration (and lose track of several hours; don't say we didn't warn you...) just browsing through the before & after photos of kitchen renovation projects posted online. You can take a look at a few of our favorite before & after stories (found on Houzz) below. These kitchens have all undergone stunning transformations that changed the way they look and function significantly. Take a look at these dramatic kitchen renovations to see how these projects came together.
Before & After #1
Custom Cabinetry: From American Traditional To Modern European
Though certainly spacious and functional, this traditional American didn't match the style preferences of the well-traveled homeowners. After spending some time in Switzerland, the homeowners decided a kitchen renovation was needed to infuse some of the European flavor into their traditional American kitchen.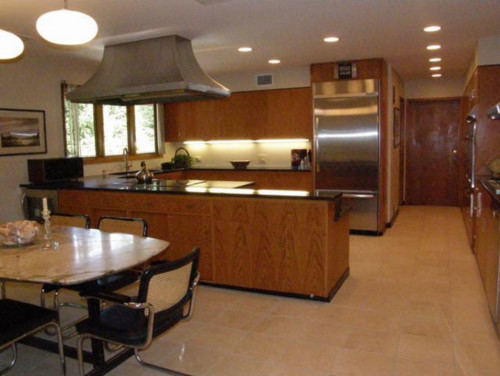 This transcontinental style transformation was accomplished with a complete kitchen cabinet replacement and new appliances. The natural wood, traditional American cabinetry was removed and replaced with sleek, laminate-surfaced European-style cabinetry in bright white with wood accents. The kitchen layout was adjusted to open up space and low-profile appliances were installed to help provide a sleek and modern theme.


The multipurpose center island is the true focal point of this kitchen. The custom cabinetry creates a one-of-a-kind centerpiece with seating space for a conversation over coffee, and built-in open shelves for storing cookbooks or small appliances.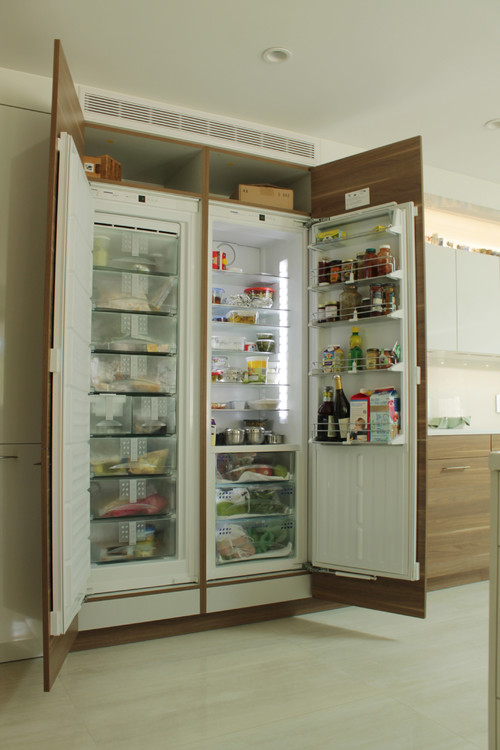 The custom cabinetry cleverly conceals bulky appliances to achieve an ultra-clean, modern European style.
The kitchen renovation cost of custom cabinetry varies according to the complexity of the design, the size of the room, the scope of the project, and the materials to be used. Home Advisor reports an average cost of $500 to $1,200 per linear foot. That rounds out to $2,300 to $8,400 for an average-sized kitchen containing 25 linear feet of cabinetry.
Before & After #2
New Cabinetry Makes Brilliant Use Of Ample Vertical Space
The small footprint of this inner-city home meant the interior square footage would not support a kitchen expansion. The homeowners found the solution to expanding their cramped kitchen by thinking outside the box. They decided to use the home's 11-foot ceiling height to expand the kitchen upward rather than outward.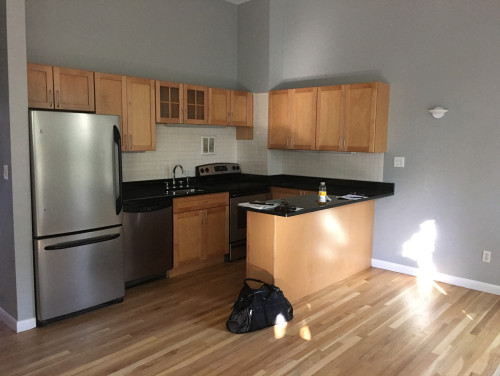 The existing cabinetry and appliances were removed and new cabinetry was installed from floor to ceiling to take advantage of the home's impressive ceiling height. What was once simply empty wall space between the original cabinet tops and the ceiling, was transformed into valuable storage space for small appliances, serving pieces, linens, and other kitchen items that are only used a few times a year. The upper cabinets are accessed via a ladder that is stored in the nearby utility closet until needed.
Using stock cabinets versus custom cabinetry offers significant cost savings. Home Advisor lists the current cost of stock cabinets at around $60 to $100 a linear foot. That rounds out to roughly $1,500 to $2,500 for an averaged sized kitchen with 25 linear feet of cabinets.
A small breakfast bar originally separated the kitchen from the small dining room. The homeowners were able to reclaim valuable interior floor space by removing this feature and combining the kitchen and dining room in one unified space. As a bonus, the dining room table can easily be used to provide additional counter space when needed.
Before & After #3
Fresh Surfaces & A Dose Of Color Breathe New Life Into A Kitchen
A kitchen renovation does not have to cost a lot of money to be transformative. If the original cabinetry and layout are working fine for your needs, there is no reason to change them. A dramatic style transformation is easy to achieve by simply changing the surface finishes of your existing cabinets, counters, walls, and floors to suit the look you desire.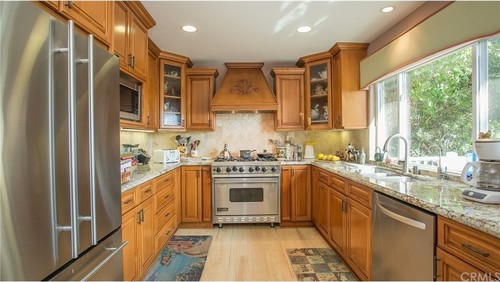 In this kitchen renovation, the country-style kitchen was transformed into a coastal cottage beauty by simply refinishing the original honey oak cabinetry in a custom shade of Sherwin-Williams' St. Barts blue.
Home Advisor estimates the current cost of refinishing kitchen cabinets is around $4 to $10 per square foot. This rounds out to a cost of around $1,500 to $5,000 for a professional to refinish the cabinet surfaces in an average-sized 150 square foot kitchen. If you are comfortable completing the refinishing work yourself (and have the spare time) then the project could be completed for the cost of materials alone. Materials should cost anywhere from $100 to $500 or more depending on the materials selected.
The original granite counters were replaced with sparkling white quartz, and the walls were covered with a crisp white subway tile backsplash. The original light maple wood flooring was swapped out for grey-washed oak. Brass hardware completes the nautical-themed make-over.
Estimate Your Kitchen Renovation Cost
These before & after stories are useful inspiration to showcase the kitchen renovation options available at different price points. For an accurate estimate of the kitchen renovation cost for your specific project, use our new kitchen planner tool to design your own custom cabinetry solution. You can input the precise measurements for your kitchen and experiment with different looks, features, and materials. The tool is completely free to use as many times as you like. When you are satisfied with your kitchen design and ready to move forward, just click to submit, and let the experts at Oasis Kitchens help you turn your design into a reality.